Best Of Daily And Weekly Commercial Cleaning Services In Kelowna
Award Winning Commercial Cleaning Services Kelowna!
Daily, Weekly Or Monthly Deep Cleaning, Virus-Sanitizing And Disinfection Services Now Available!
Long Established Kelowna Janitorial Services Company Uses Non-Toxic Products To Protect Your Health!
Ever Wish Your Building Would
Always Stay Clean And Fresh Smelling?
That's What We Do For You…Guaranteed!
You will always have a clean place to work and attend to your clients.
Call Now For A FREE Quote: 1-888-559-6870
We Are Experts In Providing Commercial Cleaning And Janitorial Services Throughout British Columbia and Alberta.
You'll Want To Keep Us Around For The Long Term!
Evergreen commercial cleaning services Kelowna and Evergreen janitorial services Kelowna has been in business for over 30 years. Our cleaning crews in BC clean over 5 million square feet commercial space every single day! We have the experience to provide the highest standard of cleanliness and convenience for all your commercial cleaning service needs.
References are available so you can check out our reputation with real clients.
Call Now For A FREE Quote: 1-888-559-6870
We Provide Uncompromising Quality You Can Count On!
Check Out These Testimonials!
City of Kelowna
"Evergreen Building Maintenance has provided janitorial services for our Park Washrooms for the past 15 years. Park washrooms in the mid 1990's were a significant problem for the City and we used to receive hundreds of complaints per year. Today, Evergreen provides excellent service for our Park washrooms and we have also received compliments for the cleanliness of our park washrooms during significant park events. The number of complaints we receive are minimal and often not a result of the janitorial services from Evergreen. I am very satisfied with our contractor and I hope that our relationship will continue in the future."
Royal LePage Real Estate
"Evergreen Building Maintenance has been under contract with Royal LePage Kelowna since April 2006. Over the years, they have delivered a dependable service and any issues have dealt with in an efficient manner."
Shoppers Drug Mart
"I am writing this letter to say thank you to you and your team. I have had several maintenance companies in the past few years, but none compare to the incredible quality of work done by your company!"
7-Eleven Convenience Store
"Evergreen's work is very professional and extremely well done. I recommend them to any company looking for workmanship that will exceed their expectations."
Call Now For A FREE Quote: 1-888-559-6870
We'll Make You Look Good!
At Evergreen Building Maintenance we understand the cleanliness of your office or store speaks volumes about you as a company. That's why we work diligently to maintain a standard of cleanliness that makes your clients and staff feel good about dealing with you. We'll help you build a positive brand image for your company.
Evergreen Building And Maintenance Inc. provides professional commercial cleaning services Kelowna for business or public building including:
office cleaning,
office buildings,
retail cleaning for common areas in malls,
individual retail store cleaning,
public institutions,
schools,
government facilities and
public spaces…
We can fulfill both indoor and outdoor requirements for all kinds of situations.
Daily Or Weekly Commercial Cleaning Services Kelowna BC
Customized Cleaning Services For All Types Of Businesses
Auto Dealerships
Civic Facilities
Commercial Plazas
Educational Institutions
Government Buildings
Industrial Tenants
Medical Offices
Professional Office Spaces
Recreational Facilities
Regional Libraries
Restaurants and Bars
Retail Storefronts
Shopping Centres
Strata Complexes
Kelowna Commercial Cleaning Services – Call Now For A FREE Quote: 1-888-559-6870

Evergreen Provides Experienced, Health Conscious "Green Cleaning" Experts
We are aware that people have health problems and allergies to different chemicals. This is why in our commercial cleaning services Kelowna we take care of your health by only using cleaning products with reduced harmful effects on personal health. Our cleaning products are GREEN SEAL or ECOLOGO certified.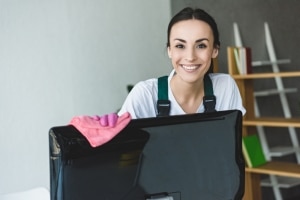 Evergreen Building Maintenance's Kelowna Janitorial Services Include Premium Upholstery And Carpet Cleaning Service
We provide our Kelowna janitorial services crews with steam extraction carpet cleaning equipment for carpets and upholstery cleaning. Professional level, truck-mounted, high-powered, steam extraction systems make your carpets look new again.
Evergreen Kelowna Janitorial Services Are Clean Trust Certified (aka IICRC)
That means we train our commercial janitorial Kelowna staff to follow manufacturer's warranty requirements so you get optimum value from the tools and products we use. Our technicians get specialized training to clean dirty spots, ground-in soil and problem stains in heavy traffic areas.
Disinfecting and deodorizing is included in the process of carpet cleaning. We strive to eliminate the source of accumulated bacteria.
Our crews are equipped with solvents and equipment to get rid of pet stains.
Evergreen Kelowna Commercial Cleaning Crews Are Available 24×7!
We understand that your property management team may work with several different contractors. Sometimes it can be a challenge to coordinate everyone's schedules. Our commercial cleaning services Kelowna will work with you and accommodate your schedule. Our commercial cleaning crews are available at any time of day or night.
We strive to maintain clear lines of communication and accommodate your busy schedule with convenient scheduling options.
We are confident you will be delighted with the service we provide.
Kelowna Commercial Cleaning For Office Buildings Guarantees Streak Free Window Cleaning Service!
Evergreen Building Maintenance specializes in cleaning windows. It's not easy to clean windows without leaving streaks and water marks. We have skilled personnel to provide quality window cleaning. There's a good reason why most commercial cleaning companies don't clean windows.
When we clean your windows, they stay cleaner longer! We use 100% pure rubber squeegees to clean your windows without building up a static charge. Static charge attracts more dirt and grime so your windows look dirty soon after cleaning. By using the right kind of squeegees, we can keep your windows clear and bright looking longer than you would expect!
Safety is an important concern with commercial cleaning Kelowna, especially with high-rise window cleaning. We provide the safest and most professional window cleaning services at very competitive prices.
Call Now For A FREE Daily Or Monthly Kelowna Commercial Cleaning Quote: 1-888-559-6870
Commercial Cleaning Services Kelowna Include:
Commercial Cleaning Services Kelowna
Janitorial
Cleaning Business
Janitorial Services
Clean Business Services
Building Cleaning
Janitorial Cleaning
Office Cleaning
Cleaning Business
Corporate Cleaning
Commercial Cleaning
Janitor
Evergreen Building Maintenance is a business cleaning services Kelowna based in British Columbia, Canada.
Evergreen is among the top BC janitorial companies based on the number of square feet serviced and the length of time in the market.
Evergreen provides the most comprehensive building cleaning services including Kelowna commercial cleaning and janitorial services.
We are able to provide consistent high quality janitorial services Kelowna because of our long-term, experienced commercial building cleaning services Kelowna crews.
As a local janitorial company, we hire and train local talent to provide top notch commercial cleaning Kelowna and janitorial services Kelowna.  We pride ourselves on being one of the most reliable office cleaning companies Kelowna.
We are experts in cleaning office buildings Kelowna and provide reliable janitorial staff for school cleaning services Kelowna.
Commercial building cleaning Kelowna is our specialty.  Cleaning office buildings Kelowna is what we have been doing for over 30 years.
Our office cleaning services Kelowna include periodic disinfecting and sanitizing.  This helps reduce low productivity and absenteeism in the workplace.
We have lots of references available for corporate cleaning services Kelowna… just ask!
If you are looking for one of the best janitorial companies Kelowna, give us a chance to prove the quality we can provide for your business!
We Are Committed To Offering The Best Commercial Cleaning Services Kelowna.
We strive to be the best provider of daily and weekly Kelowna commercial cleaning services!
Complete Office Sanitization
Disinfecting Sanitizing Cleaning
Quality Commercial Cleaning Services